Saoirse made an appearance on The Graham Norton Show yesterday evening. We added the high definition screen captures in our gallery. You can watch the complete episode over here.




Gallery links:
Screen Captures > Television Segments > 22.02.13: The Graham Norton Show
Saoirse attended the Glasgow Film Festival yesterday for the "Byzantium" premiere at the festival. You can watch the Q&A below. Stay tuned for more coverage on the festival!
Director Neil Jordan, producer Stephen Woolley, Gemma Arterton and Saoirse Ronan talk about their new film Byzantium. Stephen talks about where the script originally came from, while Gemma and Saoirse talk about the dynamic of playing the mother/daughter relationship. Neil Jordan talks about returning to the vampire genre and his experiences watching Twilight.
BBC uploaded a preview of Saoirse appearance on The Graham Norton Show. Don't forget to tune in tonight!
Saoirse filmed her appearance on the Graham Norton Show yesterday in the studios in London. The episode will air today. Be sure to check your local listings for the time! Richard Gere, John Malkovich and Taylor Swift will also be on the show.





Gallery links:
Public Appearances from 2013 > 02.21.13: Graham Norton Show
If there's a hole in your life where the Kristen Stewart-Robert Pattinson-Taylor Lautner dynamic used to be—now that the Breaking Dawn Part 2 premiere has more or less ended the Twilight Saga press tours—we'd like to introduce you to the cast of The Host: Saoirse Ronan, Max Irons and Jake Abel.

The trio are just starting promotion for their sci-fi flick, which just so happens to be penned by Stephenie Meyer, and if their banter on last night's BD2 black carpet is any indication, they're a worthy trio to carry on, "the torch of Stephenie Meyer," as Saorise calls it.

"Yeah, I guess so. I've made the film now, so I guess that's the first step," she revealed about picking up the Meyer mantle now that vampire franchise is over. "But I love the story and I love Stephenie and I love her writing, so I'm more than happy to do that."
MTV.com will debut "The Host" trailer today (November 13) at 7 a.m. (local time).
MTV News: Saoirse, when I last saw you in Toronto you were about to see an early cut of "The Host" for the first time. Are you happy with what you saw?
Saoirse Ronan: I am. It's great to just see it all put together and see how it looks and how certain scenes turned out. There are some nice moments in there. I loved working with everyone on it but I really loved working with William Hurt just because he was a great leader really for all of us. He raised questions that some of us might not have if he wasn't there so it was lovely to see the scenes that we did together.

MTV: Is the structure of the film still similar to the book? Are the flashbacks still intact?
Ronan: In the cut that I saw there were still quite a few flashbacks which is good because it gives you a chance to see the relationship between Melanie and Jared.
Continue…
Saoirse RTE One Movie talk interview aired a few weeks ago. You can watch it below/inside.
SHE'S just turned 18 — but Saoirse Ronan has insisted she WON'T go off the rails like so many other child stars.

The Carlow lass has been a serious Hollywood player since she was nine — drawing comparisons with troubled talent like Lindsay Lohan.

But in a revealing interview, Saoirse said she looks to a different type of starlet for inspiration.

The level-headed actress rejected the temptation of Hollywood throughout her teens — choosing instead to look to the likes of Natalie Portman and Jodie Foster, both former child stars who went on to win Oscars.

She revealed: "Natalie Portman is very good and Jodie Foster — they were child actresses as well and I think they took a great route.

"They were able to go into adulthood as successful actresses, so they're certainly people I look up to."

And now that's she all grown up, she's planning her next moves — both on-screen and off.

She said: "I really want to go to college. I also want to travel more and see the world and have some experiences that don't have to do with movie sets.

"I'd be interested in studying cinema and maybe history. I'd love to learn some languages too. I was born in New York, so I'd love to study at New York University."
TORONTO – Everyone has a word or phrase they probably use too much. For example, my friends will tell you I'm prone to use the word "literally" in conversation way too often. Or, when doing interviews, to say "I'm curious" about three or four times to a subject (eke). She might be embarrassed to read it, but Saoirse Ronan has the distinctly British habit of saying "brilliant' during conversation just as much as I say "literally" (perhaps more actually). It's partially because she's just coming out of her teenage years, but it also a sign of her impressive enthusiasm regarding her work.

Ronan, a former best supporting actress nominee for "Atonement," was in Toronto this past week for the world premiere of Neil Jordan's "Byzantium." The vampire flick premiered to positive reviews at this year's fest and was snatched up by IFC Films only a few days after its debut. Originally intended as a stage play, this original story from the mind of writer Moria Buffini ("Jane Eyre") tells the tale of two female vampires from the beginning of the 19th Century who have been traveling around Ireland (and who knows where else) trying to survive. Unlike other vampire flicks the rules are different for the bloodsuckers in "Byzantium." They aren't super-strong. They can't fly or jump tall buildings with a single bound. They don't burst into flames when hit by sunlight. They aren't cold to the touch. Nor are they allergic to garlic or scream in pain at the presence of a cross. They are just like you and me except they just happen to be immortal thanks to sucking the blood of, um, you and me.

"Byzantium" features Ronan and the always delightful Gemma Arterton ("Clash of the Titans," the underrated Tamara Drewe") as her "sister." The superb cast is rounded out by Sam Riley (probably the most commercial film he's made so far), the always fantastic Tom Hollander, a too skinny for comfort Caleb Landry Jones, ready to explode Thure Lindhardt, a transformative Warren Brown and everyone's favorite new stock villain actor, Johnny Lee Miller.

The night after the premiere Ronan sat down to talk about the vampire world of "Byzantium," the appeal of starring in a movie adaptation of Stephenie Meyer's "The Host" and Kevin Macdonald's intriguing "How I Live Now."

HitFix: During the premiere last night, there was a moment when you walked off the stage and someone yelled out 'I love you!' You got a big laugh when you yelled back, 'I love you too!'
Saoirse Ronan: I know. That is so nice.

Does that happen often? Is that surprising to you?
I have that happen a bit, but I don't know. IWhenever anyone says that I think it's so lovely. It's such a nice thing for them to say and it sounded like she really meant it as well, so it was nice.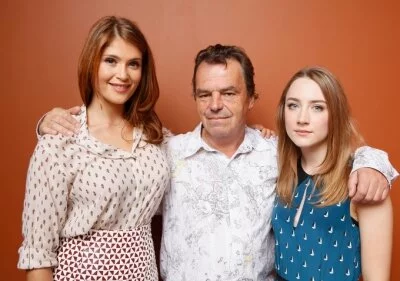 For a director who made his name with the excellent adaptation of Angela Carter's gothic deconstructed fairy tales with "The Company of Wolves" and his big studio breakthrough with "Interview with the Vampire," it's been a while since Neil Jordan traveled into more horrific territory. There were genre elements to his last film, "Ondine," but that was more of a warm, romantic fable (and a very underrated film). It's really been thirteen years since 1999′s "In Dreams," when Jordan tackled the darker side of the supernatural world.

But "Byzantium," the director's latest project, certainly marks a return to that kind of territory with a vampire tale from writer Moira Buffini ("Jane Eyre") that stars Gemma Arterton and Saoirse Ronan as a pair of vampires causing havoc in a British seaside town. And when we spoke to him in Toronto, where the film premiered this week at TIFF, Jordan says that the film was in a way, a conscious decision to return to his spookier roots.