MTV released a few behind the scenes images of "The Host" which are all featured in the The Host: The Official Illustrated Movie Companion book. We added the ones featuring Saoirse in our gallery. Thanks to soultoheart for the heads up!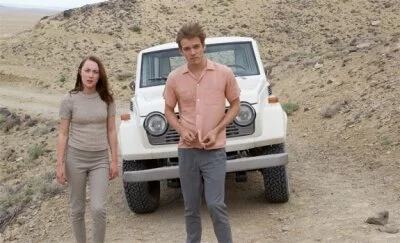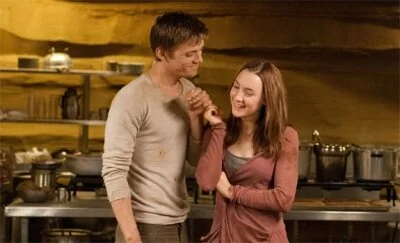 Gallery links:
2013 : The Host > Behind the Scenes
We added new production stills of Saoirse in "The Host". 13 new stills are released by 13 different fansites, be sure to follow the virtual breadcrumbs to find the other stills. Start with this fansite first.

Gallery links:
2013 : The Host > Production Stills
Saoirse is reportedly up for the lead part in Disney's "Cinderella". Deadline is now reporting – and it's been confirmed by Disney – that the director Mark Romanek dropped out of the project.
Disney and director Mark Romanek are parting ways on Cinderella, the revisionist fairy tale movie that has Cate Blanchett attached to star. It's all going down now, but I'm told that Romanek and the studio have differing views on how to tell the story. Romanek's is darker, and it's too dark for this to turn out to be a fairy tale ending. The studio has a script by Chris Weitz and Aline Brosh McKenna, and Disney began testing young actresses for the title role late last year, a group that includes Saoirse Ronan. It's certain they'll go out to directors quickly, trying to keep on track to get the picture into production by the summer. Simon Kinberg is producing. Romanek, who helmed Never Let Me Go and One Hour Photo, has dropped from films before. The helmer, renowned for his commercials and video work, exited The Wolfman again because he had a darker vision than the studio was looking for. In hindsight, that didn't work out badly at all for him.

Disney just confirmed to me that this is happening, and the studio gave me this statement: "The Walt Disney Studios and Mark Romanek have parted ways on Disney's Cinderella project. We are committed to moving the project forward and have begun the search for a new director. The team here at Disney respects Mark as both a director and a friend, and we hope to find something to work on together in the future."
Source

We have a brand new layout as you can see. It's made by my friend Amanda and I hope you like it as much as I do! Our gallery has a matching theme as well. Let me know if you find any errors.
3 New posters of "The Host" are released by Yahoo!. We added them in our gallery, thanks to Mon for the heads up.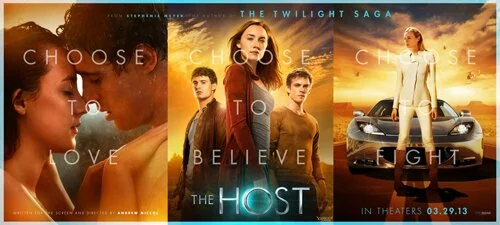 Gallery links:
2013 : The Host > Posters
Director Wes Anderson talked to THR about "The Grand Budapest Hotel" and confirmed the official cast.
THR: Some people take years off between projects, but you seem to work at a pretty steady pace. On the basis of how many people checked out and enjoyed Moonrise Kingdom, I imagine that more people than ever are looking forward to your next one, which I believe is called Grand Budapest Hotel but about which little else seems to be out there. Can you tease it a little?
Anderson: Well, yes, it's Grand Budapest Hotel. It's a Euro movie. It's a period picture. I can tell you the cast — maybe you already know the cast, but I can tell you properly who it is: We have Ralph Fiennes, and we have Tilda Swinton and Jeff Goldblum, Willem Dafoe, we have F. Murray Abraham and Jude Law, and we've got Adrien Brody, Edward Norton, Harvey Keitel, Jason Schwartzman, Bill Murray, and Mathieu Amalric. And I think Owen is gonna have a little part, too. Oh, Saoirse Ronan has quite a big part. I'm thinking if I've forgotten anybody. Yeah, we have a good group.
Source
Saoirse visited the National Children's Hospital according to the Independent.
Louis Walsh and Saoirse Ronan thrilled staff and patients at The National Children's Hospital in Tallaght, Dublin, when they turned up for a special Christmas visit.

The 'X Factor' judge and actress spent more than three hours touring wards as they signed autographs and posed for pictures with 60 young patients.

It's not every day a pop svengali comes through the door, so five-year-old patient Michael Connors, from Shankill, seized the opportunity with an impromptu audition for Walsh.

"Michael blew Louis and Saoirse away singing 'Molly Malone'. It was a highlight of the visit," said a hospital spokeswoman.

Earlier on Friday, Walsh and Ronan arrived at the hospital in a squad car with local gardai and Childline concert organiser Caroline Downey.

"The staff were just as thrilled to see Louis and Saoirse as the patients, and it gave everyone a boost – especially the kids who will be at the hospital over the Christmas period," added the hospital spokeswoman.
Source
Hollywood.com released 10 exclusive stills of "The Host" including 9 featuring Saoirse. We added them to our gallery.





Gallery links:
2013 : The Host > Production Stills
Collider, via Variety, is reporting that Saoirse is one of the actresses who will do a screentest for Disney's still untitled Cinderella Story:
Just after Cate Blanchett was reported as being in negotiations to play the evil step-mother in Disney's Untitled Cinderella Story, we now have a trio of international actresses being eyed for the lead role. The contenders for the coveted glass slipper are the Irish-born Saoirse Ronan (Hanna), Britain's Gabriella Wilde (The Three Musketeers) and Swedish Alicia Vikander (A Royal Affair). Originally pitched by Aline Brosh McKenna (The Devil Wears Prada), Disney picked up the project for a substantial sum in 2010. Chris Weitz (About a Boy) wrote the script and Simon Kinberg (X-Men) will produce. Hit the jump for more.

Variety reports that Ronan, Wilde and Vikander are all scheduled to test for director Mark Romanek's Untitled Cinderella Story. After Disney's Alice in Wonderland has grossed over $1 billion worldwide, the studio was quick to set more of their fairy tale properties in motion. They weren't the only ones, as Universal also has a Cinderella project in the works, as the property is now public domain.
Source
Hi Saoirse fans! After months of thoughts, I decided to leave Saoirse Ronan Web. I started losing my interest on maintaining website, also it occupied most of my time. Lovely Lindesy will continue my work on the site who has been helping me out on the site for very long time. I am still a fan of Saoirse and I'll come back whenever the site needs me. But right now, I would like to take a break. Thank you all for your continued support.
xx
Hillie