TORONTO – Everyone has a word or phrase they probably use too much. For example, my friends will tell you I'm prone to use the word "literally" in conversation way too often. Or, when doing interviews, to say "I'm curious" about three or four times to a subject (eke). She might be embarrassed to read it, but Saoirse Ronan has the distinctly British habit of saying "brilliant' during conversation just as much as I say "literally" (perhaps more actually). It's partially because she's just coming out of her teenage years, but it also a sign of her impressive enthusiasm regarding her work.

Ronan, a former best supporting actress nominee for "Atonement," was in Toronto this past week for the world premiere of Neil Jordan's "Byzantium." The vampire flick premiered to positive reviews at this year's fest and was snatched up by IFC Films only a few days after its debut. Originally intended as a stage play, this original story from the mind of writer Moria Buffini ("Jane Eyre") tells the tale of two female vampires from the beginning of the 19th Century who have been traveling around Ireland (and who knows where else) trying to survive. Unlike other vampire flicks the rules are different for the bloodsuckers in "Byzantium." They aren't super-strong. They can't fly or jump tall buildings with a single bound. They don't burst into flames when hit by sunlight. They aren't cold to the touch. Nor are they allergic to garlic or scream in pain at the presence of a cross. They are just like you and me except they just happen to be immortal thanks to sucking the blood of, um, you and me.

"Byzantium" features Ronan and the always delightful Gemma Arterton ("Clash of the Titans," the underrated Tamara Drewe") as her "sister." The superb cast is rounded out by Sam Riley (probably the most commercial film he's made so far), the always fantastic Tom Hollander, a too skinny for comfort Caleb Landry Jones, ready to explode Thure Lindhardt, a transformative Warren Brown and everyone's favorite new stock villain actor, Johnny Lee Miller.

The night after the premiere Ronan sat down to talk about the vampire world of "Byzantium," the appeal of starring in a movie adaptation of Stephenie Meyer's "The Host" and Kevin Macdonald's intriguing "How I Live Now."

HitFix: During the premiere last night, there was a moment when you walked off the stage and someone yelled out 'I love you!' You got a big laugh when you yelled back, 'I love you too!'
Saoirse Ronan: I know. That is so nice.

Does that happen often? Is that surprising to you?
I have that happen a bit, but I don't know. IWhenever anyone says that I think it's so lovely. It's such a nice thing for them to say and it sounded like she really meant it as well, so it was nice.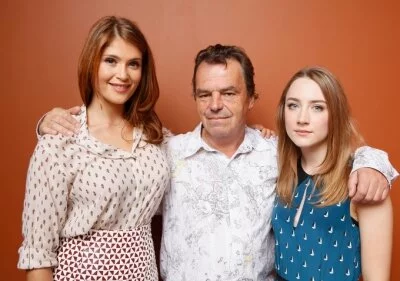 For a director who made his name with the excellent adaptation of Angela Carter's gothic deconstructed fairy tales with "The Company of Wolves" and his big studio breakthrough with "Interview with the Vampire," it's been a while since Neil Jordan traveled into more horrific territory. There were genre elements to his last film, "Ondine," but that was more of a warm, romantic fable (and a very underrated film). It's really been thirteen years since 1999′s "In Dreams," when Jordan tackled the darker side of the supernatural world.

But "Byzantium," the director's latest project, certainly marks a return to that kind of territory with a vampire tale from writer Moira Buffini ("Jane Eyre") that stars Gemma Arterton and Saoirse Ronan as a pair of vampires causing havoc in a British seaside town. And when we spoke to him in Toronto, where the film premiered this week at TIFF, Jordan says that the film was in a way, a conscious decision to return to his spookier roots.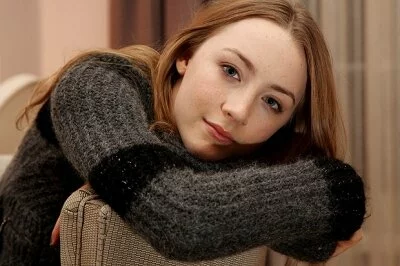 MINTED starlet Saoirse Ronan reckons that she's just like any other teenager — despite raking in millions and starring in Hollywood blockbusters in her spare time.

The Co Carlow cutie, 18, became a Hollywood household name after her dazzling Oscar-nominated performance in Atonement in 2007.

Since then she has become one of Tinseltown's most in-demand young talents — landing roles in action drama Hanna, The Lovely Bones and in an adaptation of Stephanie Meyers' book The Host.

She's also starred alongside Dublin hunk Colin Farrell, 36, and the legendary 61-year-old Ed Harris in The Way Back.

But she told how even though she's worth an estimated 3MILLION she doesn't let her success go to her head and is just like any other girl her own age, with plans to go to college and travel the world.

Saoirse said: "I still live at home. I'm just an 18-year-old. I don't live a Hollywood lifestyle or anything like that.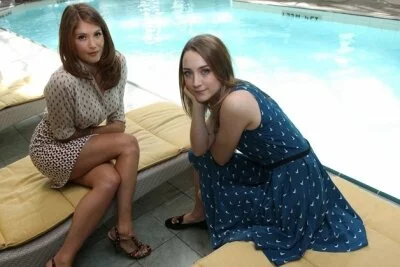 The rising stars play vampires in Byzantium, and they're a lot more alive than that girl from Twilight

It's Sunday afternoon and I'm finally getting a chance to have a conversation with Gemma Arterton and Saoirse Ronan in a private booth at the Maison Mercer.

The two of them kick off their heels and curl up beside each other, getting comfortable after a long day at TIFF promoting Byzantium. They star as vampires on the run in the new film from Neil Jordan, which premieres tonight.

They're still giddy with excitement since this is the first day they've had the chance to talk about the film with the press – ever.

"We've been moving about a bit," says Ronan, the Oscar-nominated actor from Atonement and Hanna. "And we've seen you everywhere we've gone."

She's right. This is the fourth time we've said hello, after a poolside photo shoot in the morning, a casual midday run-in on the street and an awkward incident just prior to our interview where the three of us ended up washing our hands together in a bathroom that turned out to be co-ed.
Saoirse Ronan has said Byzantium star Gemma Arterton was very maternal to her, which helped the pair to bond on set of new film Byzantium.

The pair play a couple of vampires who are mother and daughter in the fantasy thriller from Interview With A Vampire's Neil Jordan, which was screened at the Toronto International Film Festival.

Saoirse said: "She's lovely, she's very, very sweet and somebody who I got on with pretty much straight away. And she's got a real maternal instinct as well, which I think helped for us to get along even better from the off.

"We're in pretty much everything together, we have a lot of scenes together so we got to know each other quite well and she's just lovely."

The 18-year-old Irish actress said the film couldn't really be compared to Interview With A Vampire.

She said: "I think the way the story is told, and even visually it is very different to Interview With A Vampire. That was quite traditional in the way the story was told, which was so beautiful.

The grandeur is still there when it comes to the imagery and the cinematography and all that kind of stuff. This is a very beautiful film to look at, but that jump between present and past, and fantasy and reality, is kind of like a Neil Jordan stamp.

"So you can expect to see a Neil Jordan film when you go to see this."
Gemma Arterton and Neil Jordan for Byzantium at TIFF 2012 from Red Carpet Diary on Vimeo.
Neil Jordan, Gemma Arterton and Saoirse Ronan sat down to talk to Ferial Nijem about their new film, Byzantium, which premiered at the Toronto International Film Festival 2012. The movie tells the story of a mother and daughter vampire duo form a deadly pact.
Here are the first reviews on Byzantium.
· Hollywood
· The Playlist
· Film.com
· The Globe and Mail
· Guardian.co.uk
Click the screenshot below for the video.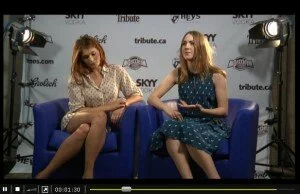 What is it about vampires that people find so fascinating? Gemma Arterton and Saiorse Ronan, stars of the new Neil Jordan vampire film Byzantium, share their thoughts on the subject in an interview with Tribute.ca during TIFF 2012. The actresses also discuss how they bonded for the film, as well as upcoming projects—Arterton is set to share the big screen with Jeremy Renner in Hansel & Gretel: Witch Hunters, while Ronan will star in an adaptation of Stephanie Meyer's novel, The Host.

Interview by Bonnie Laufer, Tribute Entertainment Media Group
Actress looking forward to 'dramatic scenes' with William Hurt and director Andrew Niccol's vision for the cave.

We still have a lot of waiting to do for the March 2013 release of Stephenie Meyer's next potential book-to-screen hit, "The Host," but thankfully we've had a few run-ins with star Saoirse Ronan to help temper our anticipation for the romantic thriller, including one very insightful visit to the film's set.

Our most recent run-in was at the Toronto International Film Festival, where Ronan was on hand for the premiere and promotion of "Violet and Daisy." We were able to snag a few minutes of her time to discuss the latest news about "The Host," particularly whether she's seen the finished product yet.

"I haven't. I'm actually going to go and see a cut today," Ronan revealed, adding that she had to be careful what she said about the film because of a previous slip-up that revealed too much. "Apparently I ruined the ending last time. I don't know what I said, but they had to cut it, because I gave away the ending."
The actress is the latest to join Hollywood's vampire craze in Neil Jordan's deadly thriller.

Saorise Ronan continues her streak of dark dramas with Byzantium, Neil Jordan's vampire-themed thriller that premiered Sunday at the Toronto International Film Festival.

But before Ronan hit the red carpet at the Ryerson Theatre, the actress stopped by The Hollywood Reporter's TIFF video lounge with co-star Gemma Arterton and director Jordan.

"The center of the movie is Saoirse is trying to tell this story, which Gemma here never allows her to tell, and anybody who resists has to get violently and horribly killed because the knowledge can never come out," Jordan tells THR. "Which is a great structure for a film. You've got the present, in the beautifully rundown seaside town in England, and you've got the past, which mainly happens in the same town but it's a totally different environment."