ISPCC new photo
Saoirse Ronan and Jamie Heaslip use their heads for the ISPCC
Gallery Link:
Miscellaneous > ISPCC beanie hats in Elverys Sports stores
Monday, 21st November 2011: ISPCC Ambassador Oscar Nominated Actress Saoirse Ronan and Leinster and International Rugby Star Jamie Heaslip took time out of their busy schedules today to join Elverys Sports and the ISPCC to launch the sale of ISPCC beanie hats in Elverys Sports stores this Christmas.

These colourful, fun beanie hats make the ideal stocking filler and are available to purchase in all 54 Elverys Sports stores and on www.elverys.ie. Priced at €3.99, Elverys Sports will donate €2 of the selling price to the ISPCC. Elverys Sports hope to raise €60,000 from this initiative.

Elverys have also launched a special Christmas competition in store, where they will donate Elverys Sports hampers to the ISPCC to give to underprivileged children this Christmas. These hampers are to be chosen by Elverys Sports customers and those whose hampers are chosen can win great prizes with the top prize of a Trip to Disney Land.

(more…)
New ISPCC campaign features Saoirse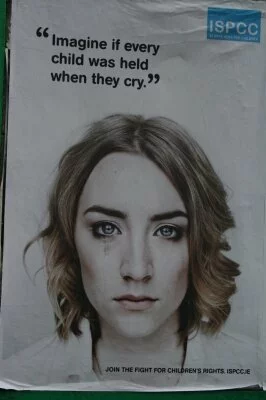 "Join the fight for children's rights."
A NEW ISPCC campaign features Jedward as you've never seen them before.

The posters portray the duo with cuts and bruises to their faces, and the slogan "imagine if every child know that nothing can ever happen that can't be fixed by someone who cares".

Other well known faces like Westlife manager Louis Walsh and actress Saoirse Ronan are also taking part in the series of posters.

An ISPCC spokesperson has told TheJournal.ie that the campaign will be officially launched on Monday. It's not yet clear if it will extend beyond the posters.

Jedward, aling with Saoirse Ronan, Westlife, Louis Walsh, Brian O'Driscoll and many other well-known names are ISPCC ambassadors.

The ISPCC's recent 'I Can't Wait Until I Grow Up' campaign featured a video which some felt went too far. A Journal.ie poll revealed that the majority of people felt that the video, which depicted violence against a small boy to be "graphic but real".
Source