Happy Birthday, Saoirse!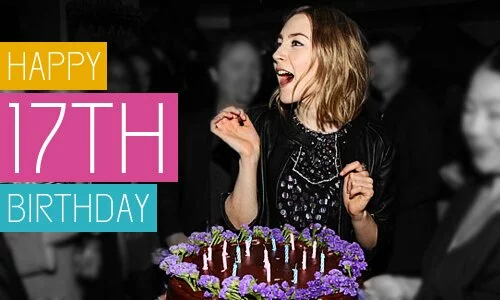 Saoirse will be on "The Today Show"
EDIT: Thanks to Bryce for clearing up, Saoirse will be on The Today Show instead of The Early Show.
TV talk shows for April 6
7 a.m. Today • Salty foods; Eric Bana; Saoirse Ronan; Jennet Conant; spring fashion; grilled cheese; Dennis Quaid.
Source
Saoirse will be on MTV's "The Seven"
Saoirse Ronan will be appearing on MTV's "The Seven" next week, Tuesday April 5th. If anyone is interested to be a part of The Seven's audience, send an email to for tickets. Please include name, age, email, phone, number of tickets, and date you'd like to attend. Remember we're LIVE 5 days a week, you must be there from 3:15-5:30 and must be at least 16 years old or appear to be younger than 25.
More reviews on Saoirse's performance in "Hanna"
"Still, the film is carried on Saoirse Ronan's performance here and it's certainly a memorable one. To be able to simultaneously pull off the look of a cold-blooded murderer with the uneasy emotions of a girl about to reach womanhood can't have been easy, but she nailed it."
- Alex Riviello, CHUD
"Hanna is powered by all-around genuinely thoughtful filmmaking and one heck of a performance from Saoirse Ronan resulting in a tense, funny, touching and, overall, wildly enjoyable experience."
"Much of the credit for this character goes to Ronan. She is so clearly wholly committed to this role; it's a wonder she didn't lose herself in it completely. Hanna does change quite a bit from beginning to end, but Ronan manages to portray every single transformation in an undeniably powerful manner yet always keeping those changes within the confines of the character."
"It's original, enthralling, fun, thrilling and solidifies Saoirse Ronan as one of the best young actresses out there."
- Perri Nemiroff, Shockya
"A superbly natural actress, Ronan makes every one of Hanna's improbable ploys seem like things she just cooked up, even when they involve murder and vengeance."
– Caryn James, indieWire
Saoirse will be on today's "The Ellen Show"!
Tuesday, March 29, 2011
At just 13, SAOIRSE RONAN was nominated for an Academy Award! The Best Supporting Actress nominee is here today to meet Ellen and will tell her all about the exciting night, as well as her movie, Hanna.
Source
Saoirse has become the ISPCC's newest Ambassador
According to the ISPCC site, Saoirse has become the ISPCC's newest Ambassador.
The Irish Society for the Prevention of Cruelty to Children (ISPCC) was founded in 1889. It is Ireland's oldest and most well-known children's charity. The ISPCC has a long, proud history of service delivery and advocacy on behalf of children.
25 Under 25: Hollywood's Hottest Young Stars (2010)
Saoirse is on the list of 25 Under 25: Hollywood's Hottest Young Stars. Thanks to Andie for the heads up.
They're young, they're talented, they're incredibly wealthy … and they aren't old enough to rent a car at the regular rate.

Welcome to Moviefone's annual 25 Under 25 list, naming the hottest, most successful, most promising young stars in Hollywood today.

And now, we're letting you have a say. For the first time, Moviefone is partnering with the People's Choice Awards to give one young actor this year's Favorite Movie Actor Under 25 award. Head over here to vote for your favorite star under 25. The top five vote-getting nominees will be announced on Nov. 9, and the winner will be announced at the People's Choice Awards 2011 ceremony on Jan. 5.

Vote for the other PCA categories here, or tweet your vote here.

Saoirse Ronan

Age: 16

What She's Done: The Irish-born actress received Oscar, Golden Globe and BAFTA nominations for her performance in 'Atonement'; starred in Peter Jackson's adaptation of 'The Lovely Bones.'

What's Next: She'll star in the WWII prison drama 'The Way Back,' re-team with her 'Atonement' director for the action-thriller 'Hannah,' and bring the young adult novel 'The True Confessions of Charlotte Doyle' to the big-screen as the title character.

Did You Know? Ronan got her start working on prime-time medical dramas in her native Ireland.
Source
Cast your vote: Who should play Katniss in 'The Hunger Games'?
EW.com set up a poll for "Who should play Katniss in 'The Hunger Games'?". Saoirse is in the list. Here to vote.
When we asked last week who'd make the perfect Katniss, we got inundated with responses. What's more, lots of you cast the rest of the books as well. As for myself, I'm still dithering over Katniss since it's the most critical role (and the one that would be easiest to screw up–get Katniss wrong and none of the movies will work). In my mind's eye she's like a young Lisbeth Salander, wiry, dark, and fierce. Maybe Saoirse Ronan with dark hair? I'm less conflicted when it comes to Peeta (Lucas Till) and Gale (Drew Roy). But I have no idea how to choose among the actors suggested for Haymitch and Effie. In their own way, each one seems pitch-perfect.
Source
Happy Birthday, Saoirse!
Happy 16th Birthday, Saoirse!